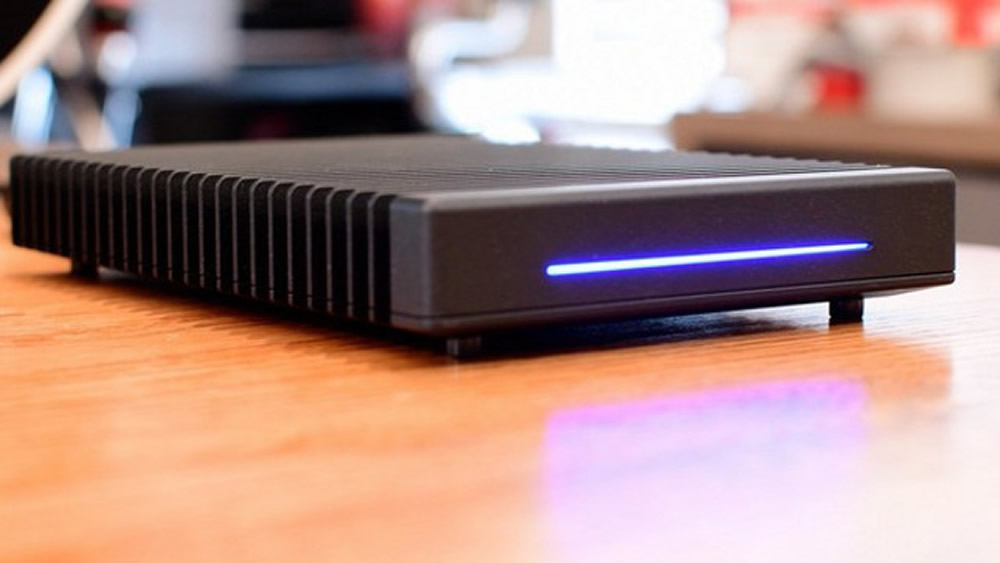 OWC (Other World Computing), a well-known storage expansion peripheral manufacturer, has released a high-speed mobile solid-state drive, the ThunderBlade SSD, which has a maximum capacity of 8TB and a read speed of 2.8G/s. It also supports dual array mode, which is suitable for frequent needs. Professional authors such as high-speed read and write video clips. The mobile hard drive is currently available in official stores, available in 1TB/2TB/4TB and 8TB capacities, priced at $799/$1,199/$1,899/$3,499.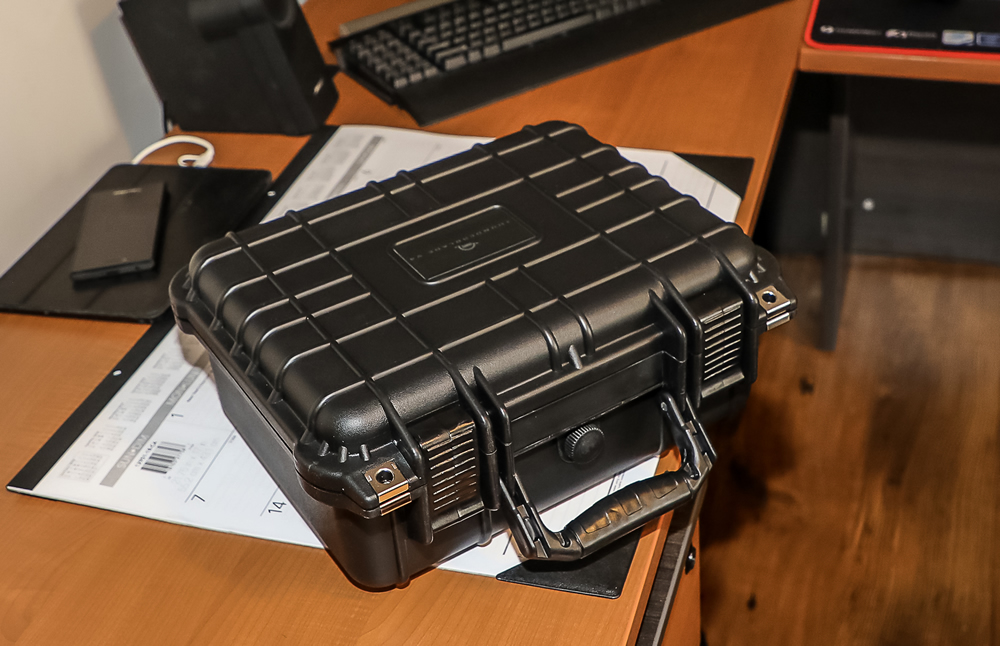 Dual Thunderbolt 3 Ports – Daisy-chain up to six Thunderbolt 3 devices
2800 MB/s read (single) 3800 MB/s read (dual)
Stackable design
Rugged portability
All metal chassis works as a giant heat sink
Completely silent operation
SoftRAID utility compatible with multiple ThunderBlade units
Includes a custom-fit ballistic hard-shell case
High quality OWC-branded 0.5m Thunderbolt 3 cable included
Sharp Design
The ThunderBlade is designed like a passive radiator with a black anti-oxidation coating. It has a rugged, all-metal casing with passive heat dissipation, but it is also very easy to accumulate. There is a light bar indicator on the front, it will light blue when it is running, and the night effect is very good. The dimensions of the measurements are W124 x D192 x H29mm, weighing 676g. There are external power supply and dual Thunderbolt lightning 3 ports at the tail, which can be read and written at the same time. Based on the motherboard supporting 4-way M.2 NVMe PCIE x4 SSD, it can provide up to 2800MB/s read speed and 2450MB/s write performance based on Intel DSL 6540 high-speed parallel solution.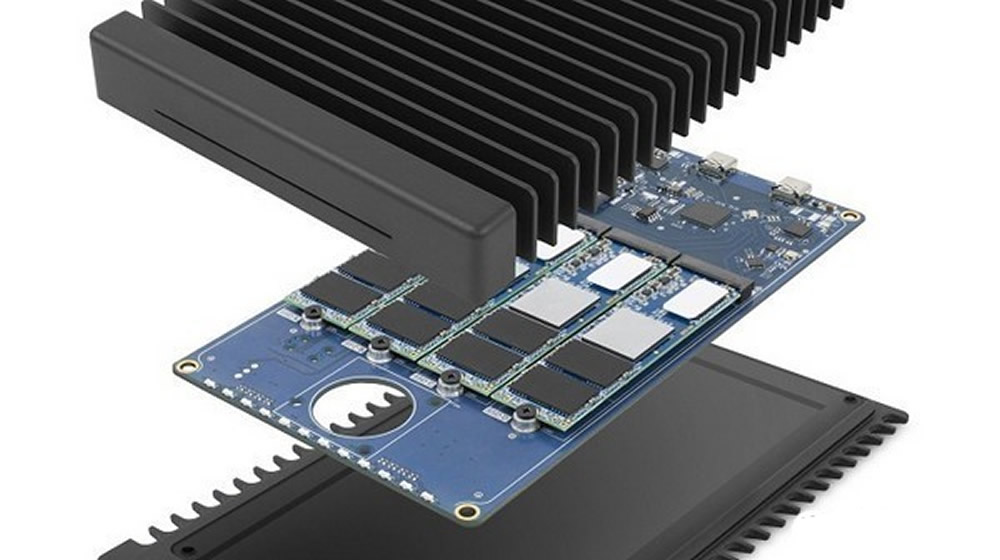 Keeping its cool
Opening the 8TB version of the OWC ThunderBlade reveals the controller, four M.2 form-factor NVMe SSDs, and lots and lots of thermal material to help keep the individual drives cool.
More Powerful Than You Can Imagine
In a fast-paced, professional environment, time is money and performance is everything. The success of your project depends on quick data processing and demands performance and efficiency working with uncompressed, high bandwidth content streams. ThunderBlade delivers the performance to match – capable of unbelievable transfer speeds up to 2800MB/s. And with SoftRAID, two ThunderBlades can reach dizzying heights up to 3800MB/s.
In addition, it also supports dual ThunderBlade RAID 0 arrays, which can provide up to 3.8G/s read, which is ideal for professional large file heavy load read and write environments. Compatible with Windows 10 or MacOS 10.13 or higher operating system, comes with a 0.5 meter long lightning wire.
The new ThunderBlade SSDs are built to the highest standards in the industry, each with two Thunderbolt 3 ports, supporting up to six ThunderBlade drives in series, and supporting ThunderBlade disk arrays with data read speeds of 3,800MB via SoftRAID software. The peak of s to meet the demanding requirements of video editors and professional photographers for data transmission speed. In addition, the new ThunderBlade SSD is extremely durable, including the use of a flexible housing to protect internal components.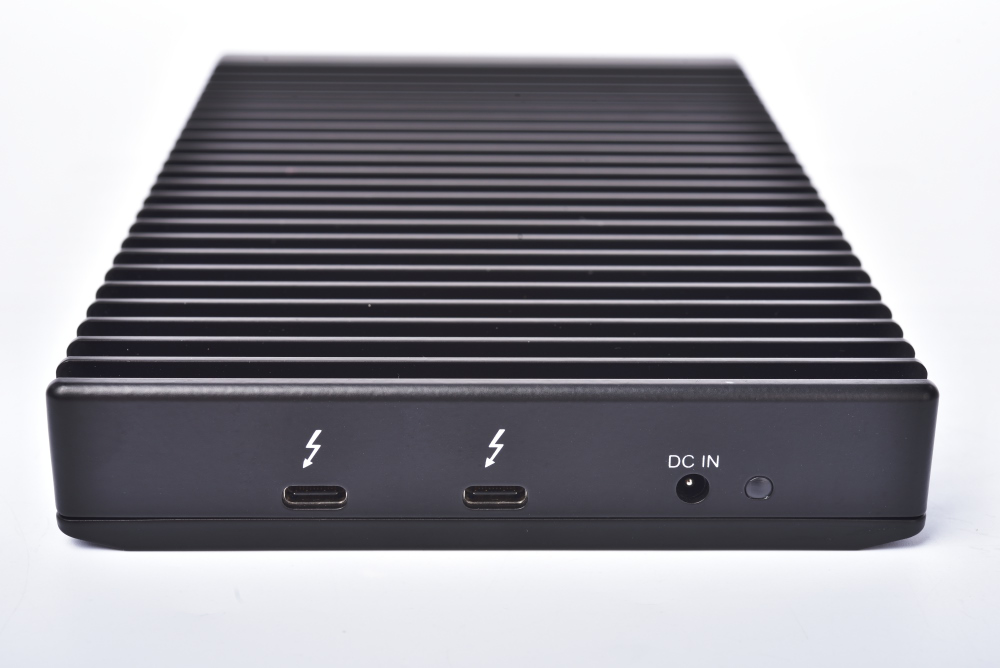 The OWC ThunderBlade is an impressive external SSD that's great for video editing workflows, because it provides a large amount of storage, features blistering performance, and is dead silent. If you're a creative professional, and it's within your budget, then the OWC ThunderBlade is definitely worthy of your consideration.
When you and other people like the post, the author will get paid. If you like to read the content here, please create your account now and start earning for free!